Wykonanie
The domestic goddess is back with her new Italian-inspired cookery programme NigellissimaThe domestic goddess has her hair in curlers and is showing me her
bunion
scars. Only someone as beautiful as Nigella Lawson, you can't help thinking, would be so insouciant about exposing her flaws. Our whole conversation seems dedicated to her persuading me, and by extension all other less goddessy types, of her long list of imperfections, physical, practical and, strangely enough, domestical.We are sitting in the vast Antarctic expanse of a gleaming white photographic studio, with sunlight pouring in. Nigella, herself, looks suitably monochrome -black hair, black retro eyeliner and lashes (for the shoot), black shirt and trousers, with luminous pale skin, the
make
-up concealing a delicate spray of freckles. She is looking toned and slim, testament to a new-found appetite for exercise and an abstemious approach to
wine
. There's just the two of us on either
side
of a small white table, sitting on white chairs.The setting, 2001: a Space Odyssey meets My Dinner with Andre, is a suitably strange backdrop to one of the
most
enjoyable interviews I have experienced – all the better for being bonkers. The conversation ranges from bunions to burkinis, the beauty of burnt smells, dirty hair and dirty sheets, bad mothering, and what it's like – when you are naturally a
very
messy person – to have married not one but two neatnik Jewish husbands.Nigella's back, with a new series, Nigellissima, inspired by the
time
she lived in Florence. I've seen a rough version of the first episode, and it is all La Dolce
Vita
gorgeousness, with a perky
dooby
-
dooby
-doo-bahhh-doo soundtrack, intercut with Nigella back in the kitchen, rolling her eyes while making visceral grunts of satisfaction as she tastes this or that dish, all wrapped up in her customary camp fabulousness: "I always say my Eggs in Purgatory are
absolute
heaven when you feel like hell." (Nigella always seems to have a great stock of hangover recipes.)After school, in the year before she went off to read languages at Oxford, she worked in a pensione in Florence with a schoolfriend: "You forget how brave you are when you are young. My schoolfriend and I went everywhere asking for work, and we ended up [as chambermaids] in this little place on a road that leads from the Duomo to the Piazza della Signoria. We shared the job and a room that was so small you had to climb over the bed to get to the loo.""And now I know something about people who work in hotels – we'd try on the guests clothes, and put their scent on… we'd never take anything, obviously, but we
were
nosy and it was
very
interesting."Nosiness is something of a lifelong theme with Nigella, and a prerequisite for her journalism career. At Oxford, she waitressed, "and I adored that because I just
love
being able to overhear people's conversations… or lack of. Now, when we go to restaurants, Charles [Saatchi, her husband] often says to me, 'Stop staring!' because I am always trying to work out what the dynamic is… 'Who is married to whom in that set-up?'"I knew Nigella before she became "Nigella" – food author, TV star, kitchenware designer and global
brand
– when she was a freelance journalist, married to another journalist and broadcaster, John Diamond, the father of Cosima (known as Mimi), now 18, and, Bruno, 16. She says that, as a person, she hasn't changed at all but it is obvious to me that she has. For a start, she is both incredibly relaxed and animated.We talk about how she used to be one of those people who is so socially awkard they don't know whether or not to do the social kiss, so leave it too late and end up in a headclash. It always used to amaze me that someone so bright and gorgeous seemed to suffer from bouts of crippling shyness that meant she could sometimes appear distant or haughty. And yet at other times she would be incredibly larky and down to earth.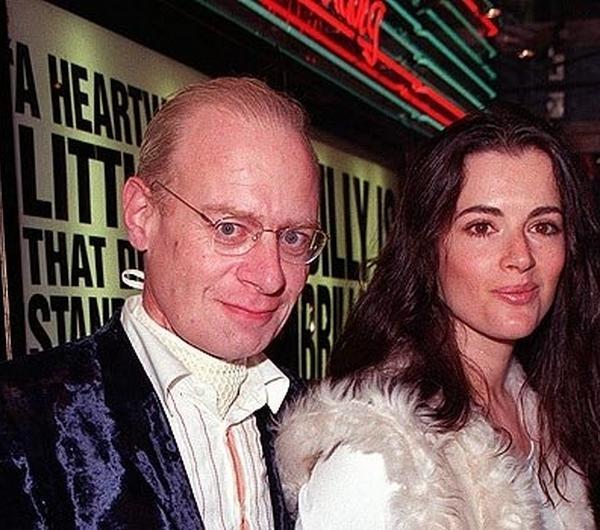 John (above) was diagnosed with throat cancer – a cruel form for someone who really did have the gift of the gab – in 1997 and died four years later, when he was only 47. In that
time
, he famously wrote brilliant, angry, funny, moving columns in The Times about his long dying. Nigella says that it was John's illness that first forced her to come out of her shell: "Because I had to be his voice, and I found it
very
hard, because he was much
more
confrontational
than
I am. He wrote a column once about shouting at a builder and he kept trying to
make
me swear and I wouldn't want to say the words."She has talked about being an awkward, unhappy
child
who
felt
that her mother didn't
love
her. Her father is, of course, Nigel Lawson, the former Conservative MP and Chancellor of the Exchequer, now Lord Lawson of Blaby. Her mother, Vanessa Salmon, was a glamorous heiress to the Lyons catering business fortune, who died of liver cancer when she was 48. One of Nigella's two younger sisters, Thomasina, died of breast cancer, at 32, in 1993 (her brother, Dominic, is the former editor of the Sunday Telegraph).When you lose a mother, a sister and a husband by the
time
you are 40, there must be a risk that you become defined by that tragic triumvirate. Nigella was depressed after John's death but was determined to embrace happiness, if it lay within her reach – as it did with Charles Saatchi, whom she married in 2003, two years after John's death. At the
time
, she said: "I adored John… but for anyone who has seen three people they
love
a lot die, the cliché of survivor guilt is strong but it doesn't bring them back hanging around moping. So I feel sometimes I have to enjoy life for them as well."It was John who was responsible for giving Nigella the idea that she should write about food. "I had it in my head that I was going to write the big novel of the 20th century…" Have you given up on that idea? "Completely and I'm right to. If I was going to write a great novel, I would have written even a bad novel by now.""And, funnily enough, after I was a Booker judge [her first journalism gig was writing book reviews for The Spectator as well as being its restaurant critic; by the age of 26, she was assistant literary editor at the Sunday Times] it made me feel even
more
grateful that I wasn't going to do it because I
felt
that I had had an excess of
fine
writing, and that I would end up writing something I didn't really want to read.""Also I haven't got the right personality type, I've since discovered – solitude doesn't suit me. And I feel that everything I want to say about life, I can say through food – although I don't think that's what I will do maybe forever. But I do
love
doing it.""John said to me, 'You know, you think that everyone has these strong opinions about food, but nobody really has this confidence. You are so certain about what
goes
with what and how you want to eat, you should write about that.' And, actually, my first book [How to Eat
came
out in 1998 and was an instant bestseller] was, in a way – maybe this is an immodest thing to claim for myself, and I don't mean it in an immodest way – but it is slightly sui generis; it's not quite a recipe book, and it's not quite a writing book."How to Eat was followed in 2000 by How to Be a Domestic Goddess, a book about baking, and another bestseller; the title was meant to be a bit of ironic fun but it gripped the public's imagination, and for a while everything was "goddess this" and "goddess that". John had always teased Nigella for being a gay man trapped in a woman's
body
, and it was this slightly OTT, camp quality, oddly enough, which television brought out in her – as much as the sexy gastro-
porn
strumpet.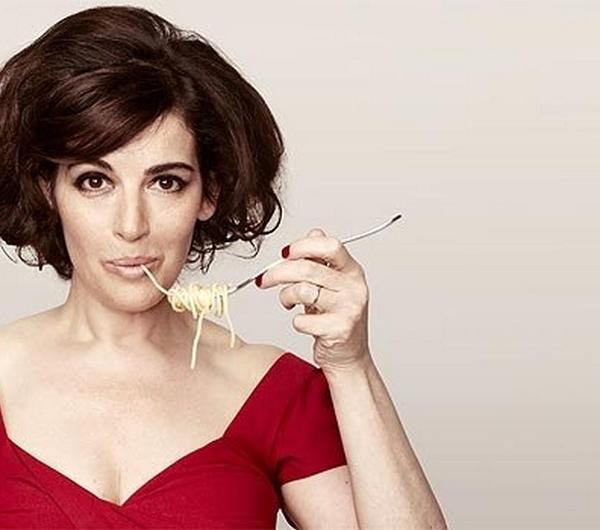 I think that her larger-
than
-life TV persona, which has been toned down in this new series, has morphed into her own personality, to some extent and this, too, may account for her self confidence. She also puts it down to age, and caring less about what people think.When Nigella was first on telly, there was a great deal of licking and sucking of fingers in sauces, which, of course, did look
very
saucy. But part of the appeal and shock of Nigella was that her way of cooking was so untidily human. So just how much of a slut are you? "Not in the modern parlance – but I am messy. My children tease me because when I was
very
cross, I said 'You're such sluts' but, of course, to them it just means sexually loose."How about 'slat', then, for slatternly? "Yes, 'slat', perfect. Charles says to me that I turn everything into a student doss house. But you can't have two messy people living together." Especially when you have children, which brings us onto the vexed subject of motherhood."People who don't have children imagine that their whole lives would be all right if they had children but they don't realise that having children gives you lots of problems; one is constantly worried. Also I think it's impossible to be a mother without a huge sense of failure.""Not that I think of my children as failures. I think they're wonderful, but one is always aware of what one isn't doing right. I was really helped by a friend recently because I was thinking, 'Oh God, I'm not strict enough,' and also it's quite difficult… John having died, obviously I overcompensate. And anyway, this friend said to me, 'Look, Nigella, you don't choose whether to be a strict mother or not, you really are what you are. It's not a decision.'""But what I feel with all of them – because I've got three, really, with Phoebe, my stepdaughter [by Charles's ex-
wife
, Kay], so it's 16, 17 and 18 – is that although I'm pretty easygoing about
most
things, I do think manners are important and being kind. And they
make
me laugh – and that's quite important. So I like the people they are.Her own mother thought Nigella was autistic: "You know, when I was a
child
, singing to myself on a swing. And you have to hear me sing to realise that it does sound like someone who's got
severe
problems. I mean, I still have to mime to Happy Birthday when it's my children's birthdays!"She describes herself as awkward and horribly shy as a
child
and her problems continued into her teens, when she moved school five times between the
ages
of nine and 18."When I was 15, my mother said 'Stop being so self-centred! Who do you think is interested in you, anyway?' And, actually, shyness is a form of self-absorption, but it doesn't feel like that at the
time
. It was her way of trying to help, but it made me even shyer. I certainly wasn't suited to being a
child
. I think being young is
very
hard and sometimes the
more
you get away from your family and
make
your own life, the
more
you become your own person. The family script can be really unhelpful."She's in a slim phase at the moment, having discovered exercise at the grand age of 52, and reducing her
wine
intake to Friday nights. But, she says, "I'm always going to be someone who
goes
up and down." Does she mind when she
goes
up? "Only if I'm having my photograph taken. Otherwise I don't. But I don't equate thinness with healthiness, as other people do, because I've only ever seen people get
thin
and then die."Nigella says this heartbreaking thing in such a completely matter-of-fact way that it makes you feel sad for her for a moment – but only a moment, and then we are back to laughing. She tells me about the
time
when she was attending a fat-is-a-feminist-issue consciousness-raising group at the same
time
as going to a slimming club, "and I
felt
like a terrible two-timer!"It's great to see Nigella on such brilliant form, clearly so happy and fulfilled. She has to go off to be photographed with some twirly pasta and I have only one thing to say: "Viva Nigellissima!"…Artykuł i zdjęcia pochodzą z tej strony: http://www.radiotimes.com/news/2012-09-24/nigella-lawson-i-dont-equate-thinness-with-healthinessWYWIAD W
JĘZYKU
POLSKIM dostępny jest na tej stronie: http://palcelizac.gazeta.pl/palcelizac/1,110783,12979686,Ciao_Bella_.html?as=2Więcej zdjęć z sesji, z ktrórej pochodzi 1. i 3. zdjęcie, tutaj: http://sweetworldofs.pl/2012/12/04/nigella-lawson-photographed-by-matt-holyoak-2012